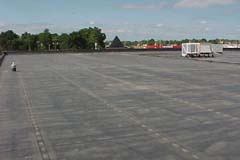 Rubber Roll roofing is an inexpensive alternative to copper commonly used on flat or low slope roves.
However, finding such inevitable pinhole leaks is often a daunting task that presents itself once notable water damage has already occurred.
Rubber Roll Roofing is an inexpensive option for flat and low slope roofing.
Some of the major draw backs to rubber roll roofing are first the unattractive look of rubber and that pinhole punctures in a rubber roof can be extremely difficult to locate. When a rubber roof is located below a slate roof it is common for falling snow and ice to puncture and damage the roof. When a low slope roof is located beneath a slate roof we recommend installing a flat seam copper roof as the copper roof can withstand the falling snow and ice. Rubber roofs are very common in commercial flat roof applications.
Rubber Roofs also require maintenance every 5 to 7 years. All rubber roof manufacturers reccommend that every 5 to 7 years new edge tape be intsalled.