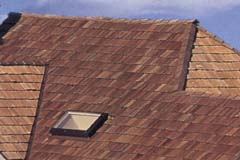 Wooden Shingles, Cedar Shake and the like have been a popular roofing material for years with its greatest popularity in the Western parts of our country.
Here at Triple M Contracting, we are both experienced and qualified to install and maintain Wooden Roofs. However, we discourage the installation of new wooden roofs. We find that without extensive maintenance they usually last no longer than 20 years.
Considering the cost of a wooden roof we do not feel that installing a wooden roof is not in the best interest of our customers regardless of style. Cedar Shake is a traditional roofing material common to the North East and North West regions of North America.
The installation of a new Cedar Shake Roof is almost always an expensive mistake. Although Cedar has been used for years successfully as a roofing material its use in new construction is highly discouraged today. This Section will explain why.
Cedar Shake shingles have been a traditional roofing material since Colonial times. Although cedar has been used for years successfully as a roofing material, We discourage its use in new construction. Unfortunately, much of the old growth cedar used to create such roofs has been depleted. Loggers and Lumber Mills are now mostly producing Cedar Shake with much younger trees, usually 15-25 years in age. The young wood from these trees have been performing poorly compared to their more mature ancestors. It has become common to find Cedar Shake roofs less than 20 years old failing. When the Cost of installation and the yearly maintenance required for such roofs is taken into consideration it is clear that installing a new Cedar Shake roof is no longer a wise investment and could prove a costly mistake.