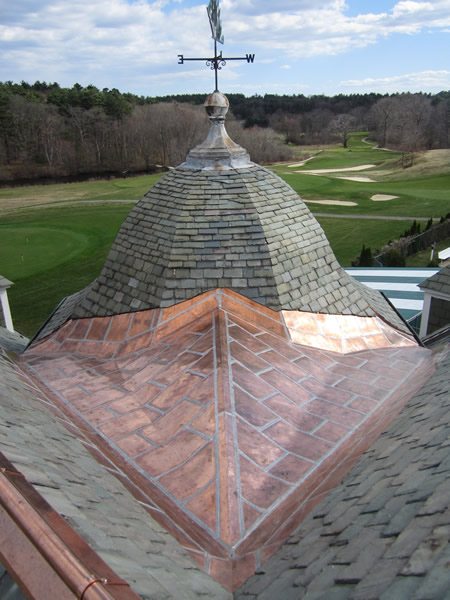 Do you own an older home or are you considering the purchase of one? If so, Triple M Contracting is here to help you maintain the historical accuracy of your property. Though tile and slate roofs are designed to last over 100 years, the flashings can fail after 80-100 years. This is where all too often great roofs are lost to the dumpster.
More than once we have seen a beautiful tile or slate roof declared faulty, removed, and a shingle roof applied in its place. Often this is the result of a homeowner or contractor that is inexperienced in the trade laying blame on the tile or slate when the reality is that the flashings have deteriorated past their useful life. If you are faced with this scenario the correct course of action is to replace the flashings and not the whole roof. If more than 40% of your roof needs to come apart a "pick-up and relay" should be considered. This process involves the removal and storage of your original roofing material, removal and replacement of the underlayments and support materials, and then the re-installation of your original tile or slate. This process not only saves you money over the cost of a new roof but allows you to maintain the historical accuracy of your property.
Has the original tile or slate already been removed from your home? If you wish to return your home to its prior condition, consider using salvaged material from Triple M Contracting on your next re-roof. Restoration projects are the perfect place for salvaged clay tile and slate. Most of the time we are able to locate an exact match to the original roof. This is where new manufacturers cannot duplicate the effects of Mother Nature on the color and texture of the roof.
Not only can we successfully re-install these types of roofs, we can also perform above and beyond the basics. We are qualified craftsman that enjoy and take pride in historic restoration projects. This has given us the experience to correctly and accurately restore your roof so it looks and functions beautifully for years to come.
On your next restoration project, give us a call. We can work with you from day one, giving you suggestions and solutions to problems that you might face throughout the project. Put our experience and knowledge to work for you.